Announcing the Wolf Creek Track Club's 2017 5k Races!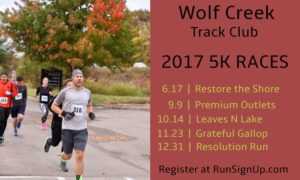 Restore the Shore has been moved to Moraine's South Shore this year! The course travels along the beautiful Sunken Garden Trail, which winds along Lake Arthur. This is a great beginners trail race. Restore the Shore once again supports the Moraine Preservation Fund, an organization which maintains and improves Moraine State Park.
We've moved the first race of the Fall 5k Series, the Premium Outlets 5k, from October to September. Same unique location, same great course, new date! Premium Outlets 5k supports the Simon Youth Foundation, an organization that helps at-risk teens graduate from high school.
NEW RACE ADDED!
New to the Fall 5k Series this year is the Leaves N Lake 5k! Leaves N Lake will be hosted at the incredibly scenic M.K. Goddard State Park in Sandy Lake, PA. The course starts at the marina and travels along the John C. Oliver paved trail, which offers sweeping views of Lake Wilhelm. The race benefits the Grove City YMCA.
The next two races of the Fall 5k Series, the Grateful Gallop and Resolution Run, will remain on their original dates: Thanksgiving Day and New Year's Eve respectively. The Grateful Gallop once again supports the Grove City Community Food Pantry, while the Resolution Run supports LDC, a non-profit, which fosters small business development within the region.
As always, shirts, food, prizes, and medals will be given away at all of our races!
Just like last year, a male and female overall series champion will be crowned. Runners must participate in at least 3 of the 4 races to be eligible to win. Winner will be selected by best average time. Will you be the 2017 Fall 5k Series Champion? Sign up today: Registration for all races is only $15 for a limited time!