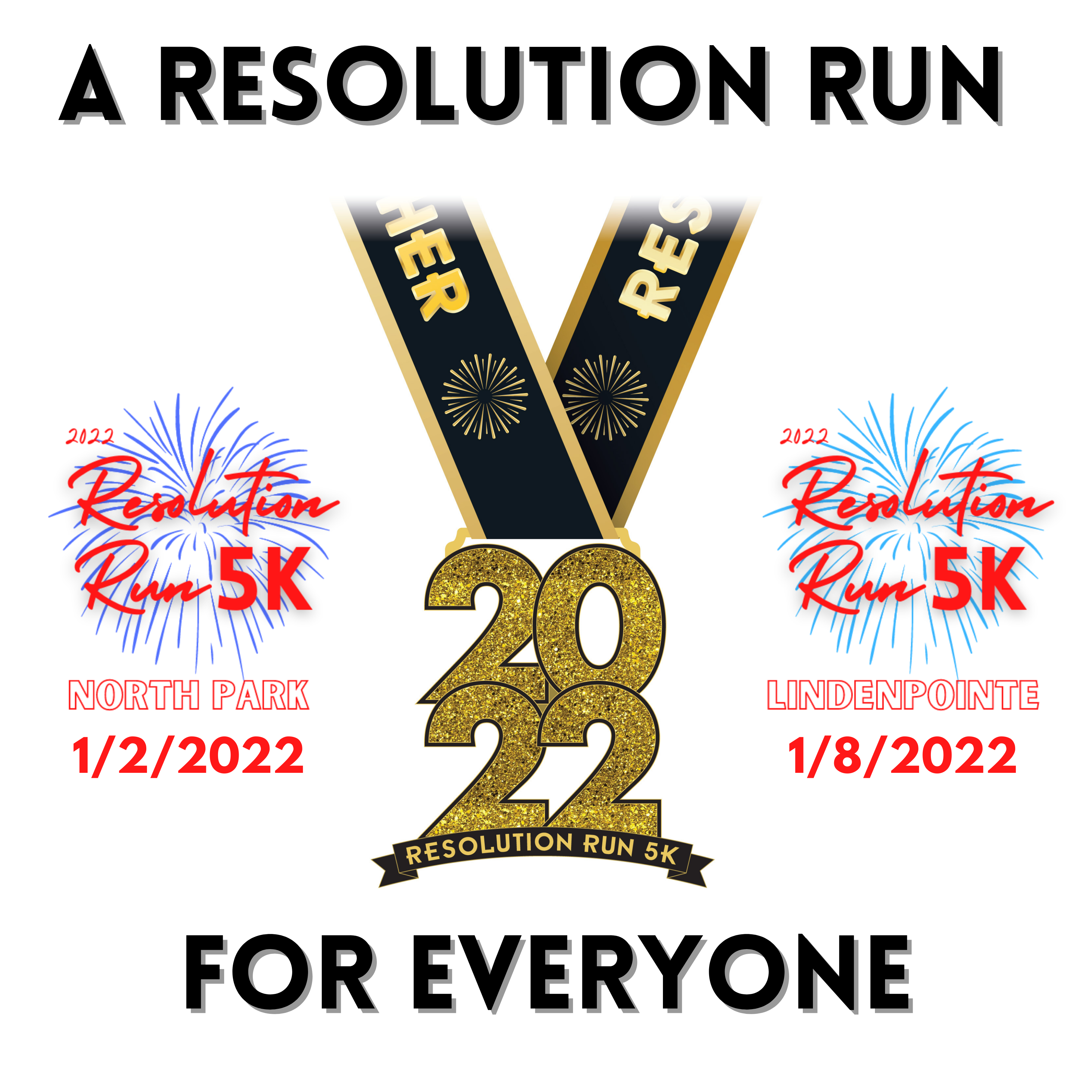 Author: Mike Martin
2 Resolution Runs in 2022
January is a time to wipe the slate clean and set new, attainable goals to better ourselves in the months to come. So, usher in the New Year with your choice of two Resolution Run 5ks sure to inspire you to follow through on all your resolutions!
Our inaugural Resolution Run 5k at North Park and sixth annual Resolution Run 5k at LindenPointe are the perfect events for new and seasoned runners alike to kick off the year. For runners looking to step up their game in the coming year, a January 5k (or two) is the perfect way to start out simply and get the ball rolling for future running goals, like a 10k, Half Marathon, or Marathon!
Perhaps you're an experienced runner dealing with training setbacks due to an injury or changes in your life. Or a novice runner resolved to live a healthier lifestyle in the coming year. A 5k is a race that anyone can complete with some basic training. It's a fantastic steppingstone for new runners looking to make distance running a hobby, and great motivation for seasoned runners looking to get back in shape for the New Year.
Earn Some Bling!
Training opportunities and motivation to take on 2022 aren't the only things to be gained from these races. All participants of both races will also receive a well-crafted 2022 finisher medal, pictured above, a performance long sleeve race shirt, and a Wolf Creek drawstring bag. The Top three finishers in each age group will receive an additional medal and recognition via a virtual awards ceremony.
North Park – January 2nd
Probably the best-known running destination in Western Pennsylvania, North Park is a staple recreational location for many Pittsburgh area residents. It features a 65-acre lake, a golf course, nature center, many quality running trails, and much more. Maintenance in winter months is excellent. The course is beginner-friendly but still engaging for experienced runners.
The Resolution Run at North Park will be supporting the North Park Trail Runners (NPTR), a local group that promotes the healthful, competitive, and social aspects of trail running for both adults and children. Donating to NPTR serves as a fantastic opportunity to give back to the community that makes running events and activities in the Pittsburgh area successful. Donate on the event website here.
LindenPointe – January 8th
With most of the course on a smooth, paved bike trail around the LindenPointe Business Campus in Hermitage, PA, this is sure to be a quick and relaxing race suitable for participants of all experience levels.
Give Back to your Community
You won't just be helping yourself achieve fitness goals, you'll be helping others as well. The Resolution Run supports the LindenPointe Development Corporation (LDC), a nonprofit that fosters the growth of small businesses across the region. Many small businesses are still reeling from the pandemic and need our help to get back on their feet.
This is a great opportunity to support community growth alongside your own personal development. Even if you don't register for the race, you can still donate to the LDC under the donate tab on the event website.
Register Today!
So get the jump on your 2022 goals while supporting two wonderful causes! Register for one or both Resolution Runs today. We'll see you in the New Year!