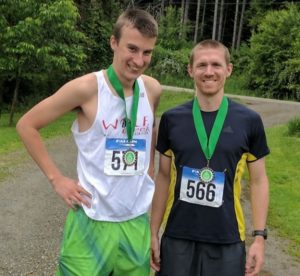 Johnstown, PA
Yesterday morning Wolf Creek Track Club member, Bryce Nelson, competed in the 4th Annual Johnstown Path of the Flood Half Marathon. This was Bryce's first appearance for the club since helping lead the team to victory in the 2016 Pittsburgh Marathon Relay. When asked about his absence, Nelson said "It was good to be back in the WCTC singlet representing the club. I really missed the feeling of racing for a team."
The Johnstown Path of the Flood Half Marathon is held in Johnstown, Pennsylvania, in remembrance of the great Johnstown Flood of 1889. Despite its being based on a historical event, the race itself is quite new, with the inaugural event being held in 2014. There were over 800 runners registered for all three races, with 342 runners competing in the half marathon field. The point-to-point course travels mainly on the scenic Path of the Flood trail, with short portions at the start, and last 5k, traveling through the streets of Johnstown. While the course is a strong net downhill, there are several climbs that can prove challenging to any level runner. Overall the course is very fast with every uphill being soon complimented with a long downhill.
The race started at 8:00 am and the temperature was in the low 50s. When asked about the event itself Bryce said "It was a good event for a newer race with so many people. Everything ran smoothly. It was clear however that they just needed more volunteers to man water stations and direct intersections." Bryce finished the half marathon in a time of of 1:37:43 – good for 26th place overall in the 342 runner field. He broke it down saying:
"It was a moderate effort. I was there first and foremost to help a friend of mine beat his long-standing goal time of 1:40:00 and second have my first good feeling long run in a while. We started the race conservatively, picking up some strangers who also had similar goals, and we worked our way down to below pace as we hit the more downhill portions of the trail. I really enjoyed the Path of the Flood trail, as it reminded me of my home trail in Saltsburg. There were some surprise uphills in the middle of the course that broke up the monotony and made it challenging. We closed strongly despite the last 5k being kind of poorly marked, and crowded with cars. By the end of the race it was just Kevin and I in our group so that was a confidence booster for Kevin as well. I gotta say my favorite part was running with strangers and talking to them about their training. Bumping into strangers and running with them is an aspect of these kind of races I always hear about but haven't ever gotten to experience."
Wolf Creek Track Club is happy to see Bryce back on the results sheets and wishes him luck in his summer training season. Bryce wanted to wish his fellow Wolf Creek Track Club members "Good luck, fast times, and healthy bodies throughout the summer."
For full race results click here.