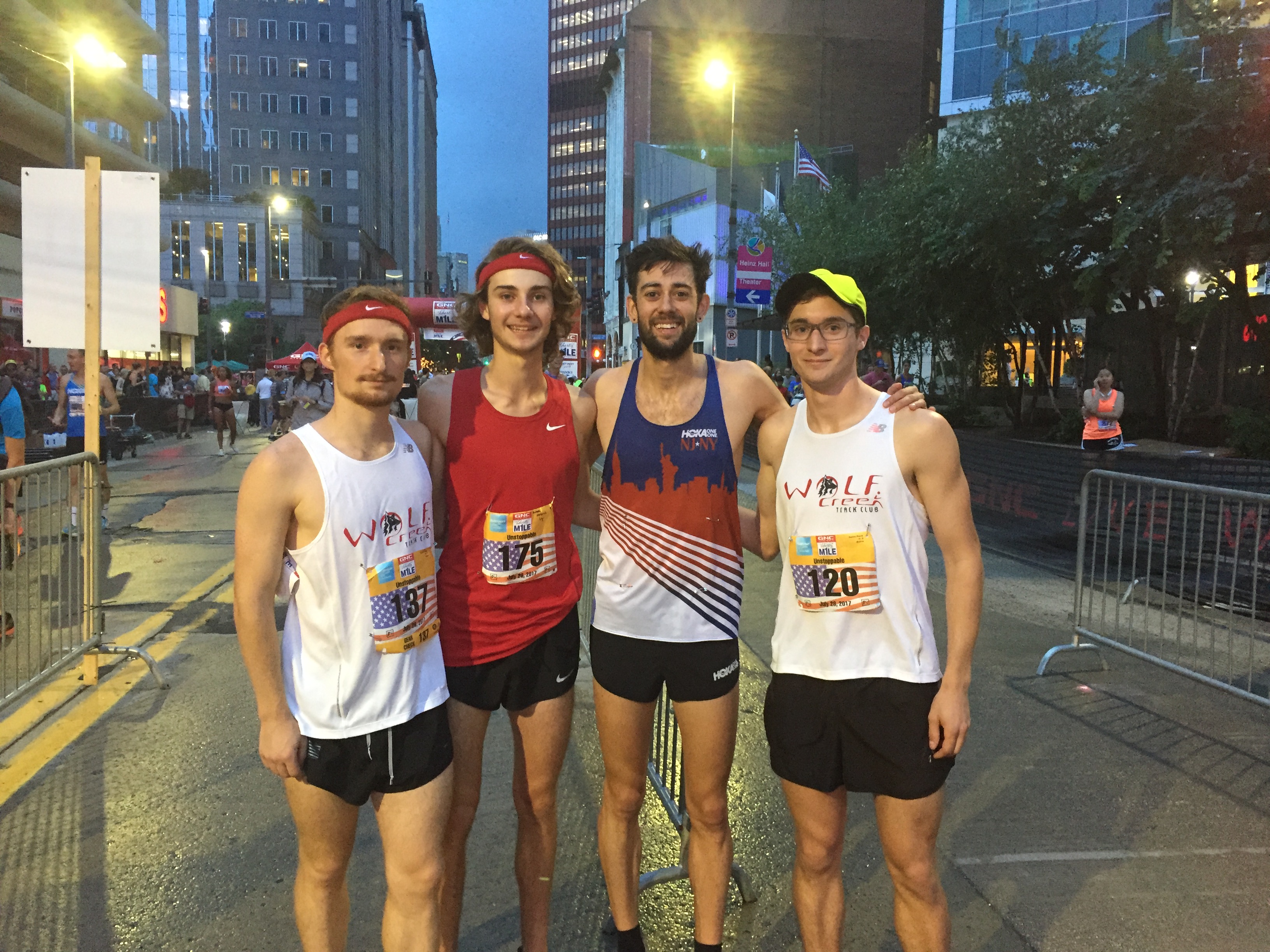 Pictured above from left to right: Brandon Wise, Andrew Medure, Kyle Merber (pro runner), Andrew Mascio
Pittsburgh, PA
A couple of Wolf Creek Track Club runners, Brandon Wise and Andrew Mascio, competed in the "Unstoppable" heat of the GNC Liberty Mile tonight. To qualify for the Unstoppbale heat, runners must have run under a 6 minute mile. At the start of the race, under cloudy skies, there was a slight drizzle, and temperatures were in the mid 70s. The first half mile of the course is slightly uphill on Penn Avenue, while the second half turns onto Liberty Avenue and is all downhill. The GNC Liberty Mile is part of the Bring Back The Mile Grand Prix race series.
In the Unstoppable heat, Andrew Mascio placed 12th out of the field of 67 runners in a time of 4:44, while Brandon Wise finished 15th in 4:54. The winner of the heat was Juris Silenieks in 4:19. Juris, a former Syracuse University runner,  is also widely known in running lore for holding the world record for running a half marathon in dress shoes. The first overall female finisher was Point Park University standout, Anna Shields, who finished in 4:47 good for 13th overall.
In the Pro heat, 2016 Olympian, Ben Blankenship representing the Oregon Track Club claimed the GNC Liberty Mile crown for the second consecutive year by out-kicking the field in a time of 4:05. Kyle Merber, representing Hoka One One and a member of the United States' world record distance medley relay team, finished 2nd overall in 4:06, edging out Riley Masters who also ran 4:06. The first female was Emily Lipari in a time of 4:35. Lauren Johnson was 2nd in 4:36, while Hannah Fields was 3rd also in a time of 4:36. Last year's female champion, Heather Kampf, finished 4th overall.
In the Masters heat, Charles Novak claimed the men's title in 4:45, while Renee Tolan bested the female field in 5:21.
The Wolf Creek Track Club's next competition will be the St. Barnabas 5k on Saturday, August 5th.