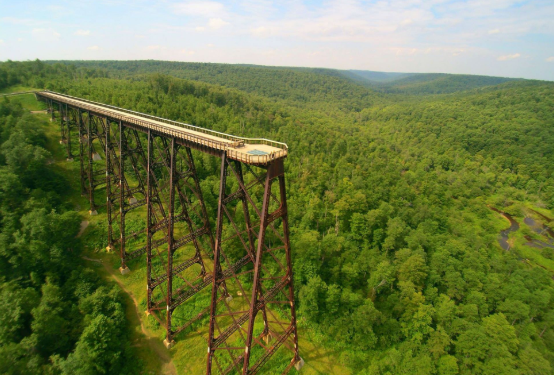 We are excited to announce the Kinzua Half Marathon on Sunday, July 26, 2020, at Kinzua Bridge State Park in Mount Jewett, PA! Experience this one-of-a-kind, destination half marathon at Kinzua Bridge State Park. The course is an out and back on the scenic Knox Kane Rail Trail. The race starts & finishes steps from the spectacular Kinzua Skywalk. All participants receive a performance shirt, drawstring bag, and pint glass!
Kinzua History:
The Kinzua Viaduct, built in 1882, was the world's longest and tallest railroad viaduct, measuring 2,053 feet long and 301 feet high. In 2003, a tornado partially destroyed the structure. In 2011, the viaduct was reinvented and transformed into 600 foot long Kinzua Bridge State Park Skywalk. On the skywalk, visitors can take in breathtaking views of the Kinzua Gorge and gaze down at the incredible destruction from the tornado. In addition, the Kinzua Bridge State Park Visitor Center offers historical information and stunning views.
"One of the World's Top 10 Most Beautiful Skywalks and Viewpoints in the World" –Culture Trip, U.K.
"25 Must-See Pennsylvania State Parks" – DCNR
"The Kinzua Bridge Skywalk is an engineering masterpiece with a rich history and one of the most stunning views you'll see in the Pennsylvania Wilds." – PA Wilds
Additional race information can be found here.