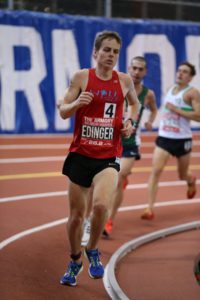 Wolf Creek Track Club athlete Nick Edinger will be competing in his first Olympic Trials Marathon this Saturday in Atlanta, GA. The Olympic Trials Marathon, happening just every four years, is the most prestigious championship road racing event in the United States. Unlike the Boston or New York City Marathons, there will only be 695 athletes competing, including 22 current Pennsylvanians, instead of 30,000+. These men and women have all qualified for this race by hitting the Olympic Trials Marathon or Half Marathon standard and will contend for six spots on the United States Olympic Marathon Team that will be competing in the 2020 Olympic Games in Japan this August.
While Nick may be considered by many to be a long shot to finish in the top three in the men's race, he should be in a good position to compete well on the hilly streets of Atlanta considering his qualifying time of 2:18:32 comes from the 2018 Dicks Sporting Goods Pittsburgh Marathon which is known as one of the more difficult major city marathon courses in the United States. Many of the other men in the race who qualified with similar times did so on much faster courses.
The favorites with the best chance to finish in the top three on Saturday and represent the United States in Sapporo are Galen Rupp, Jared Ward, Leonard Korir, and Scott Fauble for the men and Emily Sisson, Molly Huddle, Desiree Linden, Jordan Hasay, Sara Hall, and Kellyn Taylor for the women.
The event will be broadcast live starting at 12:00 PM Eastern on NBC. The men will start at 12:08 PM and the women will follow at 12:20 PM. You can find more information at https://www.atlanta2020trials.com/