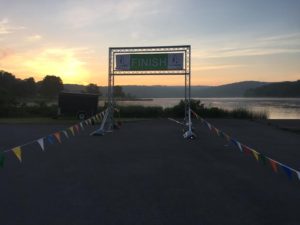 The 2nd Annual Restore the Shore 5k kicked off this morning at 9:00am! The race was held at the Sunken Garden Trail on the South Shore of Moraine State Park. At the start of the race, the temperature was in the low 70s.
Ryan Budnik, 20, from Grove City finished first out of the field of 57 runners in a time of 18:05.49 (5:49/mile) setting the course record in the process. Budnik was followed by Greg Powell, 44, of Wexford who finished in a time of 19:34.41. The third overall finisher was David Voland, 41, from Portersville (21:49.69).
The first female finisher was Lily Atwood, 12,  from Kitanning in a time of 23:25.06. Lily was followed by Karla Durnell, 40, from Ellwood City (23:39.48). The third overall female finisher was Nikki Sothoron, 37, of Wexford in a time of 23:45.10.
Last year's winner, Brent Collins, 55, of Evans City finished 5th overall and 1st in the male 50-59 age category in a time of 22:43.28.
Restore the Shore had participants from all over the world including three from Colorado and the club's first ever international finisher from Okayama, Japan in Ryosuke Yamammato who finished 6th overall.
All participants got to take in the stunning finish with the water of Lake Arthur glistening in the background. After the race there were chocolate chip cookies, Nature Valley bars, Einstein Bros Bagels, bananas, and coffee for all participants to enjoy. There was also a gift basket raffle and awards ceremony.
Restore the Shore supports the Moraine Preservation Fund. Thanks to all those who participated! We hope to see you back at Restore the Shore next year! Full Results
The Wolf Creek Track Club's next club race is the Grove City Premium Outlets 5k on Saturday, September 9th. The race is part of the club's Fall 5k Series, which consists of four races in Mercer county. An overall male and female series champion will be crowned. To register for the series click the links below:
9/9 Premium Outlets 5k
10/14 Leaves N Lake 5k
11/23 Grateful Gallop 5k
12/31 Resolution Run 5k