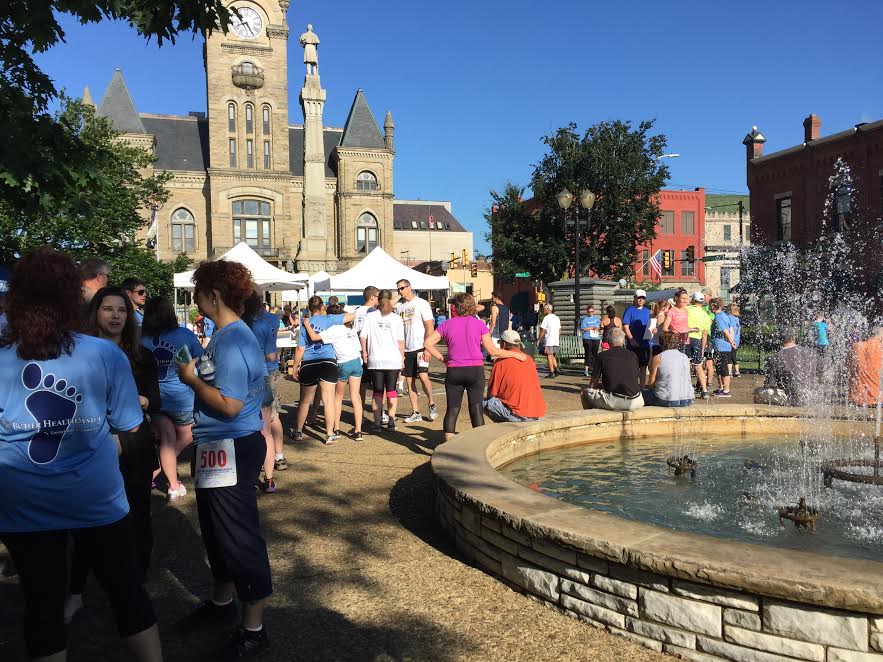 Butler, PA
The 42nd Annual Butler Road Race took place this morning at Diamond Park in downtown Butler. The 5 mile race began at 9:00 followed by the 2k race which started at 9:05. The 2k course is downhill for the first 1k and then uphill for the last 1k. The 5 mile course has some rolling hills.
The Wolf Creek Track Club's Andrew Mascio set out to defend his 2k title from last year. Mascio was battling it out with Seth Ketler, a member of Seneca Valley High School's WPIAL Cross Country & Track Champion teams. Ketler led the race through the 1k by a few seconds then Mascio surged to catch up and took the lead for a brief period. Mascio and Ketler were running side-by-side until the last 200 meters when Ketler separated from Mascio, taking the 2k title. Ketler ran 6:19 (5:05/mile), while Mascio finished in 6:26 (5:11/mile). Mascio improved on his 6:35 finishing time from last year's event by nine seconds. CJ Singleton took third place in the 2k with a time of 7:15 (5:50/mile).
In the premier event of the day, the 5 mile race, Nick Edinger, a 2013 Geneva College graduate and representing Up- N-Running finished 1st overall for the second consecutive year. Edinger, who is just getting back into training after running a 2:21 at the Pittsburgh Marathon, posted a time of 26:20. Edinger was followed by Noah Beveridge, a Butler High School Cross Country and Track athlete, who placed 5th at the PIAA State Championship meet in the 2 mile running a 9:07. Beveridge completed the 5-mile course in 27:11. Third overall in the 5 mile was Cody Cornell from Conneaut Lake (27:49).
The Wolf Creek Track Club had a booth set up at the event and will have another booth at the St. Barnabas 5k on August 5th.