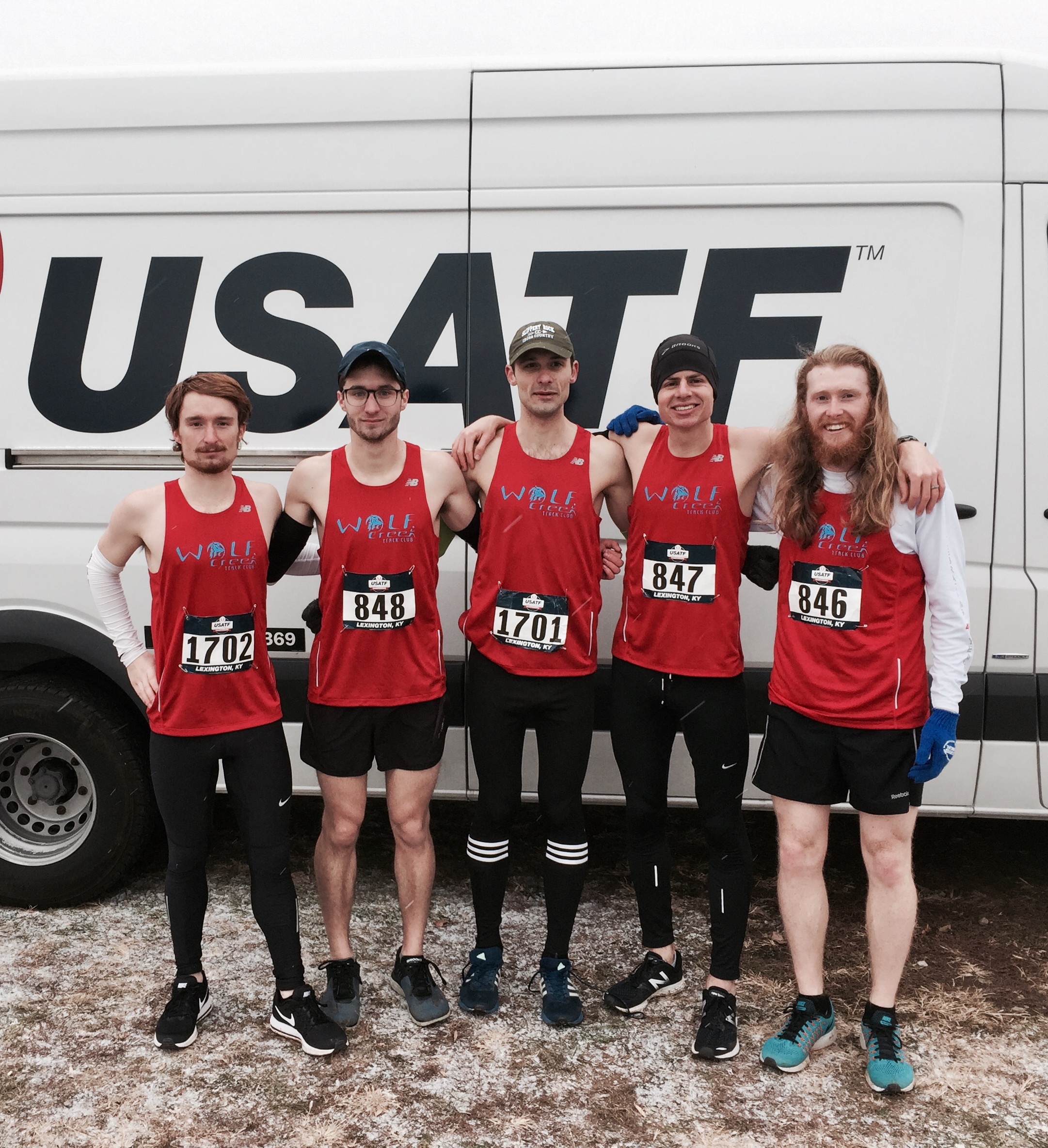 Lexington, KY
The Wolf Creek Track Club competed at the USATF Club Cross Country National Championships in Lexington, Kentucky yesterday afternoon. WCTC was the only men's team representing Pittsburgh and the USATF Three Rivers Association. The men's 10K race began at 12:30 PM. At the start of the race, it was 31 degrees with winds gusting at 13 mph. As the race progressed, snow started to fall.
The course consisted of a 4K loop followed by two 3k loops. It was a moderate course with two sizable hills per loop. The finish was a 500m uphill climb.
Nick Edinger led the team placing 125th in a time of 32:05 (5:09/mile). His time set a new WCTC record for a cross country 10k. Edinger was followed Josef DiPietrantonio who took 318th in 34:35 (5:33/mile). Placing third for WCTC, was Theo Reynolds who completed the course in 34:41 (5:34/mile) good for 323rd overall. Theo was followed by Brandon Wise who placed 363rd in 35:52 (5:46/mile), while Andrew Mascio rounded out the team's scoring in 365th place in 35:55 (5:46/mile).  In total, there were 424 finishers in the race.
WCTC placed 45th out of 87 total teams in the event. However, only 49 teams had enough finishers to score. This was the first year in WCTC's history that the club has competed at USATF nationals.
Tinman Elite won the race with 41 total points, edging out American Distance Project (54 points). Hansons-Brooks Distance Project took third with 92 points. Ian La Mere of Hansons-Brooks claimed the individual crown in 29:10. Emmanuel Bor took second overall in 29:12, followed by Ryan Mahalsky who took third in 29:14.
WCTC is looking to add to their team of elite runners. If you're interested in joining the club, please contact info@wolfcreektrackclub.com.
Next year, USATF Club Cross Country Nationals will be hosted in Spokane, Washington.