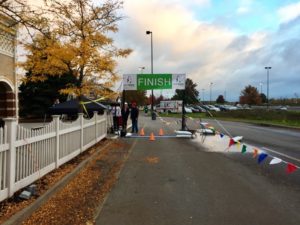 The first race of the Wolf Creek Track Club's "Fall 5k Series", The Premium Outlets 5k, took place this morning at the Grove City Premium Outlets. The race started at 8:05 AM. It was 40 degrees with wind gusts of up to 10 MPH and a slight drizzle at times during the race. 
Nick Hamilton, 26, from Pittsburgh and representing Steel City Endurance finished first overall in a time of 21:04.8. Michael Renga, 21, of Red Lion, PA finished 2nd in 21:55.6. Chad Hendrickson, 43, finished 3rd overall in 22:24.6. The fourth male finisher was LeRoy Clark, 48, in 22:27.2 and rounding out the top five male finishers was Harry Linowski, 21, of Glenside, PA (23:48.7). 
The first overall female finisher was Amanda MacIsaac, 36, of Grove City, PA in a time of 22:26.5. Amanda was followed by Jennifer Schehl, 36, of New Wilmington, PA (24:57.3). The 3rd overall female finisher was Melody Childs, 27, of Grove City, PA in a time of 25:55.7. Fourth overall was Janet Clark, 48, in 27:54.2 and rounding out the top five female finishers was Rachel Singer, 29, of Grove City, PA (28:51.9). 
The Wolf Creek Track Club would like to thank all the participants, volunteers, sponsors, and the Simon Property Group for making this event possible. The track club's next event the "Grateful Gallop 5k" is being held on Thanksgiving Day at Greenwood Drive in Grove City, PA. 
For full results of the Premium Outlets 5k click here: https://wolfcreektrackclub.com/premium-outlets-5k-results-overall/.